Quarterly Segment: No Fault Report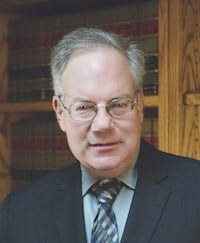 Ron Sangster concentrates his practice on insurance law, with a focus on Michigan no- fault insurance. In addition to teaching Michigan no-fault law at Thomas J. Cooley Law School, Ron is a highly sought after speaker on Michigan insurance law topics. His e-mail address is rsangster@sangster-law.com.
For over 45 years, Michigan's unique no-fault act has been an important part of this state's legal landscape. As originally designed, one of the goals of the no-fault act was to decrease the amount of tort litigation arising out of motor-vehicle accidents. This was accomplished by ensuring that accident victims would receive all of their medical expenses, plus three years of work-loss benefits and household-service expenses, directly from their own insurer, and reserving tort lawsuits for non-economic damages for "serious" injury cases and excess work-loss benefits. By all accounts, just the opposite is true. Currently, there is a proliferation of first-party no-fault suits being filed by injured persons and their providers. With the loosened threshold requirements, brought about as a result of the Supreme Court's decision in McCormick v Carrier, 487 Mich 180, 795 NW2d 517 (2010), it is easier than ever to recover on tort claims as well. With the ever- increasing insurance premiums and the ever-larger payouts being made by insurance companies, it was just a matter of time before our representatives in Lansing would "do something" to "reform" the system.
In light of the No-Fault Reform Bill, SB 1, as passed by both Houses of the Legislature during a rare Friday afternoon session on May 24, 2019, it appears that our experiment with the no-fault insurance system, as we knew it, is coming to an end.1 While there are certainly some laudable measures in the bill, particularly with regard to cost controls on medical providers and utilization review provisions, there are other areas of the bill that are certainly problematic. One thing for certain is that there will definitely be higher payouts on the tort side of the equation, given the fact that damages that are no longer payable under PIP will be shifted over as an element of damages for the injured person's tort claim. With the significant increase in insurance policy liability limits as well, it is more likely that we will see more tort lawsuits going to trial, given the prospect of "future allowable expenses" being included as part of the damages black boarded in the plaintiff 's tort lawsuit, and the higher liability policy limits to shoot at!
Whether these changes will be good or bad for the system remains to be seen. Personally, I cannot help but wonder whether the Legislature "threw the baby out with the bathwater" by doing away with Michigan's provision for lifetime, unlimited medical expenses while, at the same time, opening up the tortfeasor's tort exposure. To put it another way, I cannot help but wonder if the savings realized on the PIP side of the equation won't be offset by the increase in the premium dollars paid for the increased tort liability policy limits. I also cannot help but wonder whether SB 1 assumes a level of sophistication, on the part of insurance consumers, when it comes to realizing exactly what their employer-provided healthcare coverage actually provides, when it comes to the choice of opting out of the no-fault act altogether.
What follows is this author's analysis of the pertinent provisions of the no-fault reform measure. This analysis is no substitute for actually reading the Senate concurred bill itself, which runs 120 pages (and tracks the changes to the existing statutes) or the enrolled bill, which runs 35 pages. It is intended to be a guide and perhaps a starting point for further discussions for possible legislative "tweaking." Despite this, the author is confident in noting that almost 50 years after no-fault took effect, we are now seeing … the end of an era.
To read the full article, checkout the Michigan Defense Quarterly Volume 36 No. 1 – 2019