Read why the best defense lawyers are members of the Michigan Defense Trail Counsel.
I first became a member very early on in my career to meet new people and to attend MDTC's seminars at a discount. I was a little nervous that the more experienced attorneys would pay no attention to a young lawyer like me. I was wrong. The members were very inviting, and I ended up making life-long friends. I even served on the board until I termed out. The camaraderie is amazing, and the members provide a wealth of experience that I can tap into. This was especially important when I moved in-house and was the only attorney on staff. I have learned not only from MDTC's seminars, but from the members; not just about the law, but about being an attorney.
I've been a member of the MDTC for most of my career. The newsletter alone is worth the price of membership. The many seminars I have attended over the years have all delivered a lot of substance and are a great networking opportunity. The MDTC has a truly statewide membership.
Past President Brill asked me to be an area representative in 1991. I began attending the annual meetings and meetings with the Board members. As a result, I got to know defense attorneys in large and small firms throughout the state. These contacts have been very helpful throughout the years. For example, I have called members in a county where I don't practice regularly to obtain information about the court, the judge and the Plaintiff's attorney. Because of my attendance at the semiannual meetings and as an area representative for about five years, I have developed lasting friendships with many of the members, particularly those with whom I played golf at the summer meetings and other members of the Board. In addition, the information in the MDTC publications are always informative and interesting.
I am a member of MDTC for several reasons. First, I think it is important to support your local defense bar organization for purposes of having a strong representation nationwide either through DRI or otherwise. Second, I think it is important to network and learn from fellow defense attorneys practicing in the courts you practice. I think the opportunity to connect with those that are coming across the same challenges and brainstorm ways of improving the practice of law from a defense perspective is invaluable.
"We founded MDTC more than 30 years ago so that we could balance the voice of the plaintiff's bar and to pool defense resources – amicus briefs, help obtaining and defending expert witnesses, etc. Just the chance to meet twice a year at MDTC meetings should be worth the price of admission. Those reasons remain valid today."
"I became a member of MDTC so I could lead a pub crawl on Mackinaw Island!"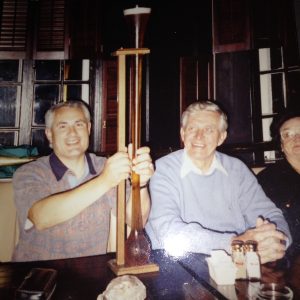 "I have been a member of the Michigan Defense Trial Counsel since 1979, principally during my practice with Garan Lucow Miller, P.C. I truly value the benefits I have received and the relationships I have shared as a result of my 36-year membership in the MDTC. In my opinion, over the years the MDTC has been blessed with Executive Directors, officers and administrators, who have worked tirelessly to coordinate and present meaningful and substantive seminars and functions for the membership and bar at large. In my opinion, the MDTC has provided its members with valuable opportunities to network, to attend seminars, and to support our judiciary. In addition, members have been able to share their expertise in many ways, such as by serving as officers, serving as committee chairs and participants, presenting talks, debates, state of the law updates, trial demonstrations, writing articles for newsletters and simply interacting within the MDTC"
"Why be a member of the MDTC?" A good start in answering this question is to consider the impressive state-wide contacts enjoyed by each and every MDTC member. In particular, the MDTC allows a defense bar practitioner to establish links with colleagues who daily face similar challenges in their practice of law, including challenges in the substantive content of the law and as well as in the management of a law office in Michigan, regardless of size. As our profession of defense trial law has become increasingly more complex, demanding, and competitive, the MDTC has served and continues to serve as a practical and valuable resource for its members to address these issues."
"The MDTC provides unparalleled networking opportunities for members of the defense bar, in addition to excellent seminars, practice updates and other valuable resources. Belonging to the MDTC has fostered professional connections I might not otherwise have, and has given me information that has helped me improve as a lawyer. I strongly recommend membership in the MDTC."
"I joined MDTC when it decided to expand its reach to include commercial litigation and have been active ever since. MDTC provides attorneys with great opportunities to network with other attorneys and judges. It also presents interesting and educational programs. If an attorney is interested in joining and becoming active in a great organization with a rich history, this is the one to join."
"This organization is very unique in that it has no pretense, and as a result, it is able to provide opportunities for personal and professional career advancement without the pressure of proving one's self. Leadership growth opportunities abound and are stress free as everyone knows that we all have family, firm, and client obligations that come first and foremost. It certainly helps that we have such a strong and capable executive administrative support team backing the organization.
Because of this culture, MDTC provides a setting in which to develop meaningful and true friendships and collegial networks. The educational programs are just the tip of the iceberg of learning through the MDTC. I am a member because MDTC has given me the opportunity to truly learn to be part of a leadership team and a contributor to the advancement of other members. We don't always get this opportunity in our professional lives at our offices. Achievement is there for the taking in this group and I truly am grateful for the opportunity to be a member and participate, and also to share the benefits with my friends, colleagues, co-workers, and even courts and clients."
"MDTC offers value for its membership dues. I find the Quarterly Newsletter to be a particularly valuable asset for my practice. The Reports in each Quarterly regarding recent legislative developments, court updates, and new case law is insightful to my interests and practice. More often than not, the Articles in the Quarterly Newsletter bring points of interest to my attention, which have application in my practice. As a busy lawyer, anytime I can quickly absorb a new idea or case, then apply it to my practice, is beneficial to my clients and self."
"Having been a member of MDTC for over 25 years, I have seen many changes in both the law and the organization. The one thing that has remained constant is the value of the educational and networking opportunities that the MDTC has afforded me. This has been a steadying influence in a career that has spanned 40 plus years. I would recommend membership and it's benefits to all of the defense bar."