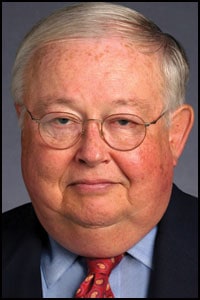 Robert S. Krause
Robert S. Krause was a top-rated trial lawyer who practiced products and liability law for fifty years. He ended his career with Dickinson Wright Attorneys PLLC in Troy, Michigan where he represented a wide variety of clients in matters relating to personal injury, products and liability, business litigation, and civil defense. From automotive litigation and class action suits to business torts and legal malpractice, Mr. Krause was thoroughly experienced in providing quality legal services that yield consistent results. He received the American Board of Trial Advocates Lifetime Achievement Award in 2015 and was a celebrated Michigan Super Lawyer for the past decade, not to mention also serving as a past president for the MDTC for the 1993-94 fiscal year.
As he told it, Mr. Krause wanted to be a lawyer for as long as he could remember:
"I love the opportunity to represent clients and do a good job for them, and I also just love being in the courtroom. I did a lot of debate in high school, and I won the state championship my senior year, which even further developed my interest in the law."
Mr. Krause attended Saint John's University in Collegeville, Minnesota, graduating with a Bachelor of Science in 1963 before heading to law school. In 1966, he earned his LL.B. from University of Notre Dame Law School and has since represented a large roster of clients including DuPont, Ford Motor Company, Hobart Corp., Johnson & Johnson, Premark International, W.R. Grace & Co., Bristol-Myers, and Squibb. From property damage asbestos litigation to medical malpractice, Mr. Krause had a track record of assertive and passionate legal representation.
With over five decades of industry experience, Mr. Krause was witness to an evolution within the legal field towards more mediation-based resolutions over taking cases to trial. He noted:
"The practice has really changed, specifically for trial lawyers, because legislators are finding ways to make us obsolete, and it's really cutting down the number of cases that are available to go to trial. They have all sorts of methods to keep cases from being tried and they've really worked very hard at finding alternate ways to resolve cases."
In addition to his dedicated work as a trial lawyer, Mr. Krause gave back to the legal community through seminars and lecturing. He spent twenty years teaching trial advocacy at the University of Michigan's Law School and welcomed new generations of lawyers to the field. He left a lasting impact on the legal field and his influence will surely be felt for decades to come.