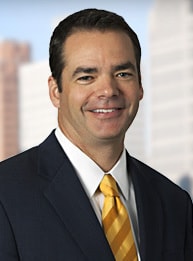 Fred J. Fresard
Fred J. Fresard, a highly experienced trial attorney, focuses his practice on defending complex, high exposure litigation in the United States and Canada. He handles class action, product liability, Multi-District Litigation, and other commercial and negligence cases across North America for numerous multinational corporations. Mr. Fresard is regularly called on by Fortune 500 companies to try high stakes cases in some of the toughest venues. In addition to handling significant cases and trials, Mr. Fresard also advises clients on issues outside the context of litigation, such as risk management, business matters and contract negotiations.
Experience
Over his 20-plus year legal career, Mr. Fresard has helped his clients manage hundreds of millions of dollars of exposure in class action, product liability and other litigation-related matters. He has coordinated litigation for large manufacturers and insurers, and has tried dozens of high exposure cases against some of the country's top trial attorneys. His clients typically conduct business on a global scale, so Mr. Fresard has examined and presented witnesses from the United States, Canada, Germany, the United Kingdom, Japan and Korea. He serves his international clients across the North American continent, having appeared in dozens of courts throughout the United States and as a licensed barrister and solicitor with the Law Society of Upper Canada.
Mr. Fresard serves as national and local counsel for several global manufacturing enterprises. While he is often called upon to take high exposure matters to trial, he also provides product liability avoidance advice, including design review and development of warnings, manuals and brochures. Mr. Fresard is also retained to consult on safety and regulatory matters.
Mr. Fresard is a highly regarded lawyer in the area of automotive crashworthiness litigation, safety technology and safety regulation. He is well-known for his technical expertise, especially in the area of vehicle handling and stability, roof strength and occupant restraints.
Mr. Fresard also has considerable experience in legal and regulatory issues facing industries in the alternative and renewable energy sectors. He has represented the energy industry in significant litigation related to renewable power supply development and is recognized for his expertise on legal and regulatory issues related to hybrid and electric vehicle technology.
Mr. Fresard also represents internationally-known clients in the motion picture and professional recording industry. He handles transactional and litigation matters relating to recording and motion picture contracts, as well as disputes over misappropriation and unfair use.